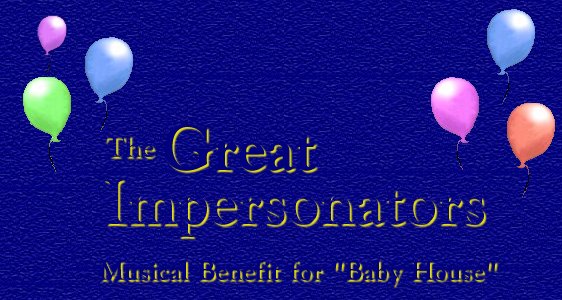 ---
---
"Vicky Seaber" Your Effort and Tears for these children will not be in vain.
..............................................WELL DONE!



"A Third Rate Romance" is PeWee's message.

Baby House, an organization that renders care for children, ages Birth until 12 years old, that need ventilators to survive. A truly magnificent group of people that give of their time and expertise to ensure our children have a fighting chance for survival. The "Impersonators" are very grateful to have been allowed to do this show for such a worthy cause. We Salute you "Baby House" and South Miami American Legion Post # 31
for your concern.




Bev's "High On LOve"




Frank & PeWee are" Lost In The Fifty's"




"Old Time Rock n Roll Will Never Die"




South Miami's Beauty Queen's sportin new digs in a tribute to all lovely women. (Only kidding!)




"A little Country to make everyone feel good"




Jerry, talks about his love of Lawyers in
"Get Over It"
Site Index

All graphics on this web site are copyrighted. Not for public use.
This site created by UP ALL NIGHT Web Page Design
All rights reserved.