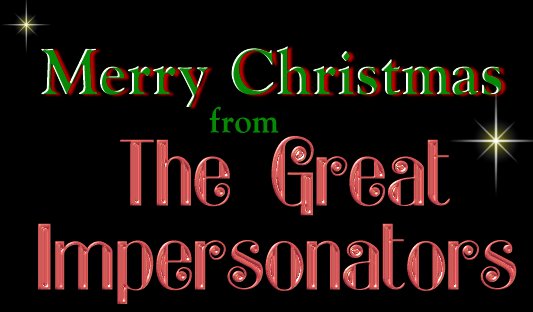 The Great Impersonators would like to wish all
A Merry Christmas!
Jerry Hull aka (Elvis), Sally Hull aka (Leslie Gore), Ronnie Youngkin aka (Gary Puckett), Beverly Dixon aka(Patti Lovelace) June Howard aka(aka Shania Twain), Teri Orebaugh aka(Tanya Tucker), PeWee Rhodes aka(Reno Bro's), Iris Casio aka(Fabulous GoGo Girl), Vicky Seaber aka(Ms Dolly Parton),Ron McMillan aka (Master Stage man),Caren McMillan aka (Tina Turner), Steve Samuels aka (Neil Diamond) Connie Samuels aka (Little Red Riding Hood), Matt Dillon aka (Hank Williams Jr), Jim Gardner aka (The Diamonds) Ralph Janislewski aka (Peter Paul & Mary) Cindy Janislewski (Martha& The Vandellas) Steve Parks aka (Bob Seeger), Martha Parks aka(Pam Tillis) Frank Cummins aka (Spencer Davis& Gimme some Lovin), Jimmy Parker aka (Master of Sound).
Each and every one of us pray that you and yours receive evrything that you wish for, and equally you do not forget the veterans on these blessed holidays. Remember they are the reason we enjoy freedom! Stop by your local American Legion Post or V.F.W. and enjoy brotherhood & sisterhood during the holidays. Remember the Vets in your local Veterans Hospital as well. If you do, you will be rewarded by the Big Guy upstairs.

Check out our MENU!
| | |
| --- | --- |
| | Take a look at us in action! Come meet The Great Impersonators |
| | Our Reason for Being - A message from Jerry Hull, founder of The Great Impersonators |
| | Come listen to some GREAT music from the 50's & 60's |
| | This is where we've stashed our AWARDS and WEB RINGS |
| | Take a trip with us down MEMORY LANE and relive the 50's & 60's |
| | NEW! Apply for the "Rock n Roll Classic Site" Award!!! |




Please drop by again soon!

You Are Visitor Number


Since Aug. 02, 1998.
| | |
| --- | --- |
| | Drop us a line! |
For Information On How To Join P.O.O.L.



Press gif to Go To Oldies Unlimited